Remember my
longing for fall fun
? Well, we fixed that this weekend. On Sunday, the hubby and I loaded up the family station wagon for some old fashioned fall festivities. (alright we don't have a station wagon, and I rarely refer to him as my "hubby", but something about the fall color palette, and a Pittsburgh farm make me wax nostalgic for the suburban '70's life I never had. And judging by the fine folk we found at the 'patch, I'm not the only one longing for times gone by...I'm talking to you mullet man in a throwback jersey!) But we did drive out to
this place
:
see that ya'll? Kraut cabbage is in. (also, I like to put the emphasis on "in". Like, get hip to the crazy kraut beat. word?)

We didn't actually sample the kraut, or the froz. sour cherries, but there was plenty of other farm fresh fun to partake in. First on the list? A goat!
No, we didn't taste him, but he tasted the sign, and the ground, and some poo, and my shoe. So a good time overall. (But that communal hand sanitizer dispenser didn't exactly give me that fresh and clean feeling I was longing for after I touched a sheep that 9,000 other people- most of them snotty fingered kids- had already pet. Seriously, what kind of crazy parent lets their kid in that pen with a 10 cent cup of "zoo chow" to fend for themselves against-I'm estimating here- 17 hungry goats, 4 sheep, 2 pigs, a llama and a donkey? Oh, all of the parents at the farm? Cool. Must be totally safe and sanitary, why was I worried?)
Speaking of really awesome ideas: the farm had piles and piles of pumpkins that you could climb/wade through to find your favorite. This was like a crazy produce section dream where you could well, climb into the produce section. You all haven't had that dream? Anyway, it was totally fun, and Dustin and I both broke all weight guidelines and climbed on in (ok...there were no actual guidelines, but I didn't exactly see a ton of other adults clamouring to the pumpkin summit). The only scary part was watching the wee little kids slowly getting overtaken by the monstrous pumpkins. If you've ever seen a kid almost submerged in a McDonald's ball pit, you get what I mean. This was like nature's PlayPlace. But I was quickly distracted by all the new parents putting their seemingly hours-old babies into the pumpkin mass for some
Anne Geddes
-esqe shots. I want to roll my eyes, but can see myself tossing my newborn in there in a few years....Smile at mommy- Dustin, move that rat, it's blocking my shot!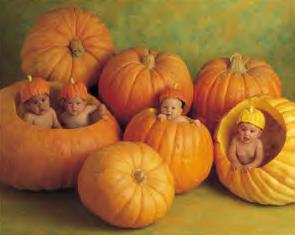 "the littlest pumpkins have the biggest grins!"
But I only tease because I LOVE. It was seriously a great time. It was a gorgeous day, and we picked out some beautiful pumpkins (I swear Dustin's has a tree trunk instead of a stem). I got a white one (which Martha and I know are all the rage). We saw the craziest looking goards, and got some mini pumpkins to take home too.
Any similarities between me and the pumpkin are purely coincidental.

But perhaps even more impressive than the pumpkins, was the food (I know, I know, pumpkins are food, but you know what I mean!). They had fried everything, apple everything, corn everything, and (obviously) pumpkin everything. Dustin wandered around saying, "I smell burgers. I'm hungry. Am I hungry? Oh wait, we just ate...but I think I'm hungry! Don't those peppers look good? They're so green!" I realized my Mom's suggestion was right: tie in food, and all outings will be successful! We went home with 5 pounds of fresh made kettle corn, sweet onion peach salsa, apple butter bbq sauce and a gallon of apple cider. Not bad for one afternoon!
And for his part, Dustin had a ball. He didn't quite squeal with me when we pulled into the parking lot (he may have given me a pity clap), but he warmed up to it just fine (I believe he had a rather serious talk with a goat atop a stack of boxes- the goat, not him). And I actually had to talk him out of buying cornstalks for our front porch! For not loving fall, he was a real trooper...I mean, Pilgrim.