Can you believe it's almost Thanksgiving? Over the last few years, it's become one of my most favorite holidays. Some time to eat, drink and celebrate with family, while having the chance to reflect on our many blessings? Yes please. And while it may be a little silly to be thankful for something like a blog, I will tell you that I am SO thankful for the community that has been building through the Show Your Real

series. I am grateful for each one of the women (and our one brave male participant!) for being willing to open up and be vulnerable. Today's post is from Rachael Kincaid. She's a mom of six (including two step-sons, a long haired little man, twin toddlers and a newborn), a nurse, a bit of a granola-girl, and always a fierce participant in the "tell it like it is" school of writing. I love that she's equally willing to share her secrets to cloth diapering, as she is to share her struggles with post postpartum depression. So yeah...I'm pretty thankful she's here today.
-------------------------------------
How does the idea of "Show Your Real" resonate with you..why did you want to participate and share?
I think vulnerability is a powerful tool for this generation of women. Learning to share the truth in grace, learning to encourage by living things out amongst community, that is such a beautiful thing. I feel called to do just that, live out my life online and build a community with it. So I couldn't say no to this fun and tender interview!

What misconceptions might people have about about your life at first glance?
Sometimes folks read my blog and see my Instagram photos, and they think that motherhood comes naturally. I work really hard to be honest about that part. It doesn't. I'm not a good mother by nature. I might not even be a "good" mom at all, but I'm learning and I'm trying. I also cock my head at all of the people who wonder how I make it work. I just do my life. I wake up, I take care of a few things, and I go to sleep. It's strange to consider what people think of my family's dynamics and patterns, as if we know some secret.
What are some of your patterns and routines for a "typical" day?
I always, always make my bed and I never leave the den messy. I drink iced coffee before breakfast and I try to avoid TV time for the kiddos before lunch. Nobody in my house is allowed to leave their bedroom in pajamas, either, because I have a thing about that. Working full-time, on a rotating schedule, makes the routine part difficult. So I hang on to the little things, like the iced coffee.

What does the balance/mix of work/chores/family time/rest/etc look like in your home?
I don't rest until the chores are done, but I limit the work and chores to a manageable amount. Ideally, I only put in a few hours of work per day and spread the rest out. A real workday consists of 14 hours at a hospital, taking care of patients. A realworkday for my husband is leaving the house before 6am on Sundays and leading people into the presence of Jesus all day. So we all rest when we can.
What things have become "your real" now that the you from the past would be surprised about?
For the first time in my life, I have begun to say no to things... not because I don't want to do them, but because I've literally run out of time and margin. I'm not quite sure how I feel about it, but it's real. Also, I eat oatmeal. It's easy, it's filling, it's cheap. I used to despise the stuff, but it's what's for breakfast most days now.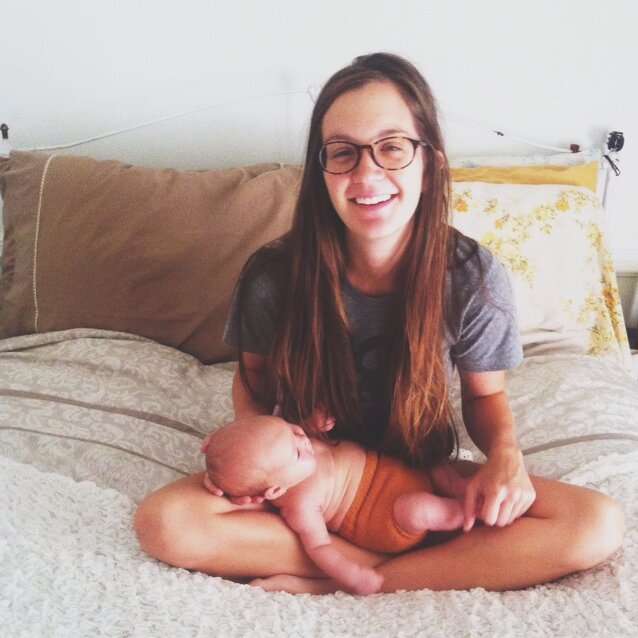 What are the hardest parts of your current season of life? And the best parts?
See above, I guess! Fitting things in and developing routines to which we can all stick, on which we can all depend... this is the hardest part of where I live right now! I'm okay with the crazy, I'm okay with running out of hours in the day. But when I feel like I can't get ahold of rhythms for my family, that's when I get stressed. So I'm leaning a little harder into the Holy Spirit on that topic these days. The best part of this season, hands-down, is my sweet newborn. She is the brightest, easiest, most joy-filled baby I've ever known. God has truly used her to tell me a redemptive story, to lead me to a place where postpartum depression and anxiety are cast aside. I'm so grateful for her, for His loving on me through her.
-------------------------------------
Show Your Real is a bi-weekly series of guest posts centered around the
concept of authenticity. The
goal is to encourage each other to expose the reality of our lives- good and bad- and to foster a sense of community that goes beyond the often suface-cy interactions of social media.
We invite all of you to participate! Please comment, link, and hashtag to spread the
showyourreal
love. If you would like to contribute a guest post in this series, please email me!